Cover photo: Slovenian forest. Source: zgs.si
Q1) Is reclaimed wood (more) sustainable (than newly harvested wood)?
At some point, many structures constructed from wood are either removed or demolished. When this happens, there is large amount of timber left behind. Using reclaimed wood is more energy efficient than harvesting new wood, which involves felling, transporting and processing. It also doesn't require any living trees to be cut down. On the other hand, given the large volumes of wood we use to build new structures and remodel existing ones it would be interesting to observe if and on what scale using reclaimed timber would have any significant impact on timber harvesting.
Q2) Is reclaimed wood just a trend and is it realistic to expect from people to use it, considering that Slovenia has vast areas of forest (high quality timber standing stock)?
So far, due to the large afforestation in Slovenia, timber harvesting was not problematic. Only in the current era of increased environmental awareness and striving towards sustainable development the benefits of timber waste reuse started to be noticed and the whole life cycle of the structure is considered. Nevertheless, reclaimed timber does not represent large share in the market but more of a special niche in the market due to the 'story.' As far as costs are concerned, newly cut timber is probably even cheaper than reclaimed timber and costumers primarily use latter for their own satisfaction.
Forest area in Slovenia. Source: zgs.si
Q3) What wood species are available for reclaimed wood?
In the past buildings were built using materials found in local area, therefore a lot of old houses were made completely or partially from wood. In different regions of the country, different wood species were more dominant for construction and those were used in buildings. Five main wood species used throughout the country were spruce, beech, fir, larch and oak. However, data is limited and during this project we hope to gather more data on type of specific wood species application to have a better overview of limitations on supply of reclaimed wood.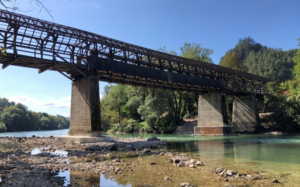 Oak bridge over the Sava river.
Q4) Volume and condition of wood from demolished buildings in Slovenia?
Reclaimed timber is underdeveloped market in Slovenia. Due to current demolition situation in practice, quality and quantity of wood generated such wood is usually not suitable for reuse. The largest share is used as fuel source in households and no attention is focused on preserving timber that could be used further for structural purposes. There is usually no data on extent of timber damage due to use of metal, glue, impregnation and attached materials. Assuming that the recovered elements are free of such impurities, they may present additional challenges over newly produced product like dimensional stability. However, even if the wood is well preserved it is usually severely damaged by demolition machines, because compared to selective deconstruction, demolition is easier for companies in terms of labour cost and work time. Study would be necessary to determine which structural elements show potential for reuse and how we should build today to make deconstruction easier for demolition companies.
Q5) Is reclaimed wood safe (for structural) use?
It is agreed that usage of reclaimed timber is a great idea when feasible. However, issues concerning the reuse of timber members as new structural elements are relatively new and not well known. We hope to establish non-destructive methods that will estimate mechanical properties of reclaimed timber, to assess if the element meets all the design and constructional requirements for future use. It would also be interesting to observe if change of static scheme results in decline of strength in reused timber. In practice that means if old timber beams could be successfully reused as columns, which does not match their original static work in the building.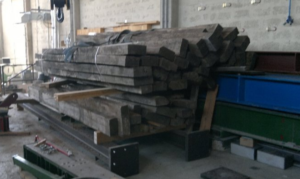 Specimens from the oak bridge, ready to be tested.