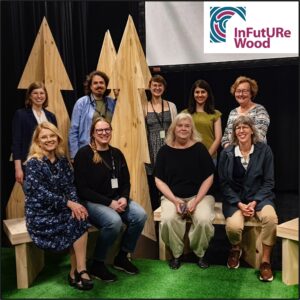 The InFutUReWood project has officially come to an end, but we still have some exciting results up our sleeves! Watch this space for more reports and videos. If you want to learn more about our project outcomes (and do not want to wait until we release our remaining reports), you can virtually attend the ForestValue conference on 21st and 22nd of June 2022.
InFutUReWood will be presenting on the 21st of June at 3:50 pm CEST (2:50 pm UK time).
Join the conference at Vimeo: https://vimeo.com/event/220
The programe of the conference is here.
ForestValue projects cover a wide range of timber related topics – so it is sure to be an interesting conference.
Got any questions for InFutUReWood?
We will be taking questions during the conference via Mentimeter. If you already want to get your question in (or vote on other people's questions), go to menti.com and use the code 4714 1662.
You can find the video from WP5 (on grading of recovered wood) here: