We would like to draw your attention upon this collection of  scandinavian projects presented by the Nordic Wood in Construction Secretariat.
The 25 Cases of Nordic Good Practice point to five trends within Nordic wood in construction that paint a picture of where the industry is headed:
1) multifunctionality;
2) saving time and costs;
3) investing in scalability;
4) pushing the boundaries;
5) circular design.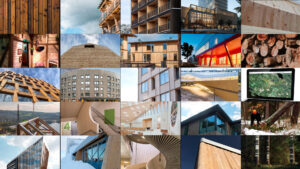 p

icture from: 

woodinconstruction.net
All of the projects are inspiring. At least five of them will probably influence directly our work. Have a look!
One of the members of the pan-Nordic advisory board of the Wood in construction secretariat is professor Mark Hughes from Aalto University, Finland, one of the workpackages leaders of our InFutUReWood project.