The "Kayak House" is a reused wooden structure with several exposures, situated now in Lisö, south of Stockholm.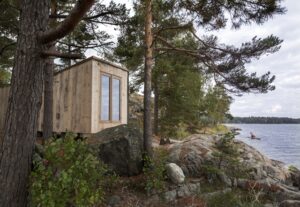 The initial pavillion building has been exhibited at several places in Europe to promote the use of wood as an industrial and sustainable building material.
The story starts with a pavilion of 2m x 5m made in Dinesen Douglas pine wood that was designed by the architects In Praise of Shadows: Katarina Lundeberg & Fredric Benesch, and manufactured by the cabinet maker Oliver Beer for the Handmade Exhibition at Milan Design week 2014.
The same year 2014 the building was also displayed at the Architectural "Biennale" in Venice as a continuing discussion about wood in architecture.
Later on in 2015 it was displayed at the craftmanship exhibition Werkraum Bregenzerwald in Austria in to promote wood and to show the craftmanship of Oliver Beer, who actually is a local cabinet maker from Bregenzwerwald.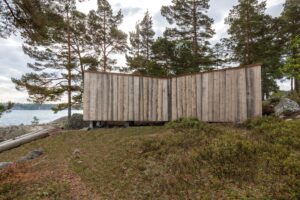 Instead of destroying it the architects decided to invest in the cheapest transportation, and "do something useful out of it" back home in Sweden. From 5m x 2m in size the building was extended to 12m x 2 m (a standard size for guesthouses in Sweden) and it thus became the "Kayak house" in 2017.
It is placed on eight conical concrete plinths. The original structure remained and a new façade made from pine trees from the site was added.
The irregular shape of the planks gives the building life.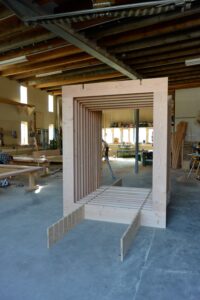 The architects told us that the pavilion was designed from the beginning in a smart structure, as a "building-kit": It was mounted so that the many vertical frames were stabilized by an overlaying horizontal beam that clicked into the frames, which made it easy to deconstruct and reconstruct!
"Because we could use the efficient CNC saw in production , we made a structure with frames that have different dimensions, that was the assignment we wanted to test and that gave was us a more elaborate space. The exhibition and the pavilion is our research work in modern production of wooden structures" said Katarina.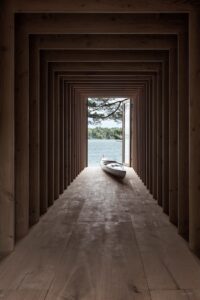 The structure is now stabilised with glulam beams underneath and with plywood boards on top of it. The building has similar openings on each short side, fitted with oak doors. The floor is also oak, both for the lovely feel under foot, and to handle splashes when kayaks are carried in straight from the sea.
The house has a flexible interior that allows it to serve as a kayak store and a dedicated space for the family's teenagers.
More information:
photo credits:  Åke Eson Lindman & Bjorn Lofterud