The Wood Recyclers' Association (WRA) has made an urgent appeal for waste wood samples from the demolition of pre-2007 buildings. They are trying to avoid what they see as a potential crisis that could cost the demolition sector over a 100 million pounds a year.
Demolition companies in the UK are urged to take part in a national sampling programme (led by WRA with the support of the National Federation of Demolition Contractors). The aim is to identify and quantify which demolition waste wood items are hazardous.  They say that without these tests the Environment Agency (which has responsibilities relating to the protection and enhancement of the environment in England) will presume all demolition waste wood from this period is hazardous, and it will become the responsibility of the waste generator to prove otherwise before the waste can be moved from their site.  For this survey they are looking for samples of structural timbers, tilling battens and external joinery – and there is a need to complete this work by the end of July 2020.
This Waste Wood Classification Project began in 2017 at the request of the Environment Agency. It aims to ensure that waste wood in the UK is being properly classified at the front end of the recycling chain, and processed for the appropriate end uses.  While the project was underway the Environment Agency had issued a kind of derogation (called a regulatory position statement) that allowed mixed waste wood to be used as a feedstock for panel board manufacture, or appropriate biomass boiler (suitable for burning potentially contaminated wood). This derogation is only valid until July.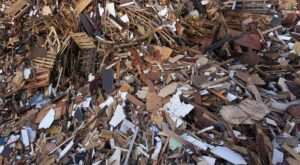 The WRA has said that the results they have so far from Household Waste Recycling Centres have matched their expectations – that less than 1% of the material is showing a hazardous content. They also say that results so far from demolition are showing that materials that were expected to be hazardous are not showing as hazardous in the testing – but also that the number of test results so far is not enough to be conclusive.
If the situation reverts back to normal Duty of Care where the producer, (ie, the demolition contractor) is responsible for ensuring compliance with the law it will mean increased costs for the industry, and more material being directed to energy recovery in specialist incinerators, rather than another life as a product like chipboard, as is typically the case at present.
The WRA estimates there is potentially 400,000 tonnes of material involved in this sector, meaning the potential cost to the demolition industry of hazardous disposal could be over £100 million per year.
For further information, see the news item on the WRA website.